Survivors' plea for Yorkshire's residents to learn CPR - "Everyone deserves a chance"
14 October 2022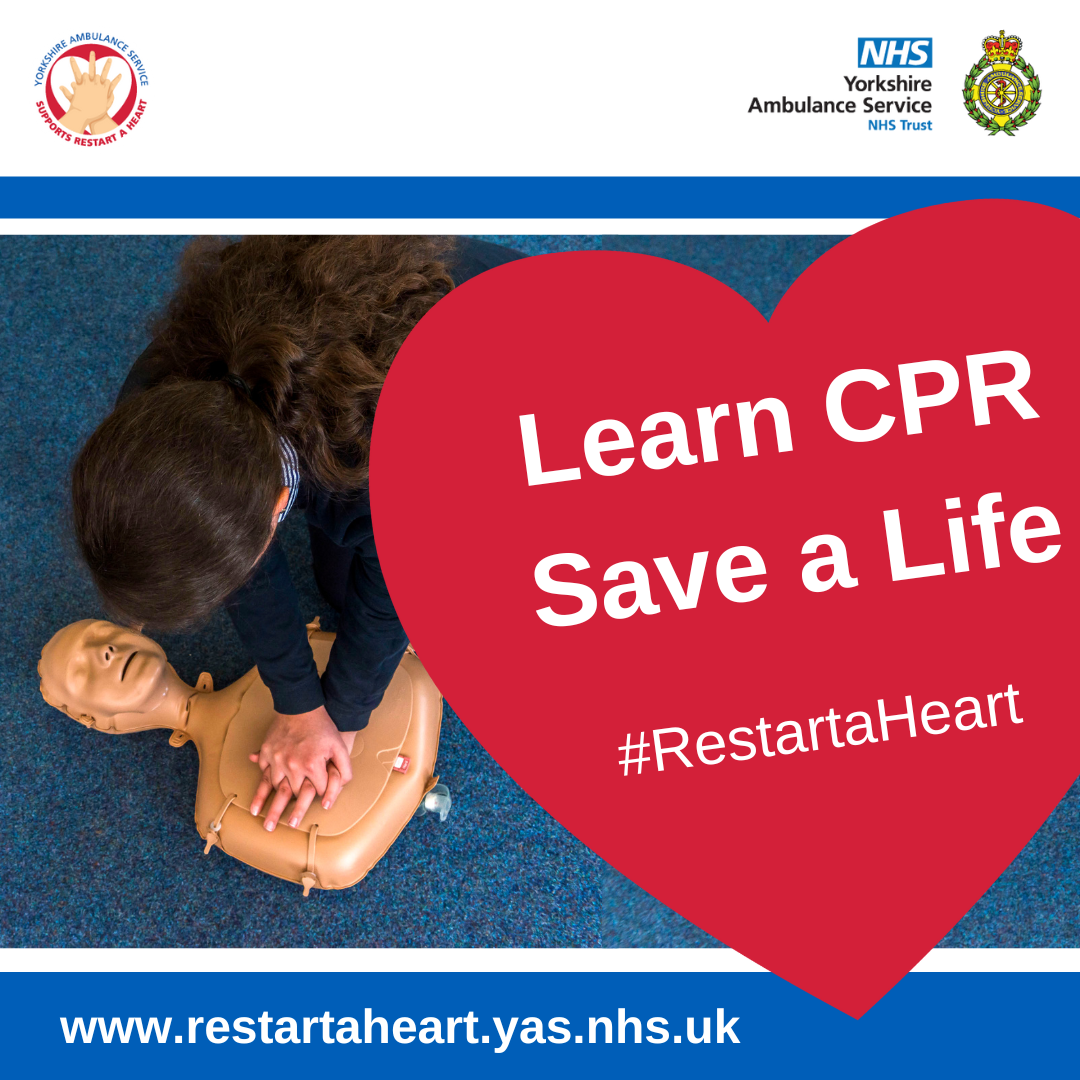 Cardiac arrest survivors and their life-savers are supporting Yorkshire Ambulance Service's attempts to provide cardiopulmonary resuscitation (CPR) training to more than 40,000 people to mark Restart a Heart Day.
On Friday 14 October, ambulance staff and volunteers will visit 136 secondary schools to teach the life-saving skill to tens of thousands of students.
The top football league clubs in Yorkshire are also urging members of the public to get hands-on as ambulance staff and volunteers visit stadiums throughout October to teach CPR to football fans.
This year's activity means that Yorkshire Ambulance Service staff and volunteers will smash the milestone of more than 200,000 people being taught CPR since the Restart a Heart campaign was launched in 2014. During this time bystander CPR rates in Yorkshire have increased from 39.9% (2014) to 74.9%* (2021).
The event is supported by cardiac arrest survivors and their life-savers:
Jason Carlyon, Community Engagement Officer with Yorkshire Ambulance Service, said: "Our message is simple - please be confident to intervene when someone has a cardiac arrest. Everyone in every community has a role to play in the chain of survival, whether it's by calling 999, doing chest compressions, locating a defibrillator, retrieving it or by telling others what to do.
"We come across many patients who are alive today because someone started CPR when they collapsed - everyone deserves that chance."
To mark this year's Restart a Heart Day, Yorkshire Ambulance Service has launched two innovative CPR training methods:
A mobile CPR training kiosk - believed to be the first of its kind in the UK - which teaches CPR in just 90 seconds. Users watch a tutorial video and practise on a manikin which provides feedback about the effectiveness of the chest compressions.
An immersive 360 CPR training video which can be viewed on a range of devices, including phones and virtual reality headsets, and sets out the scenario of a student coming across a stranger in cardiac arrest. It takes you through what to do and how to give the patient the best chance of survival by starting CPR. The scenario allows you to interact with the virtual environment to get a 360-degree view, and see what is above, below, and all around you.
Football club activity
Ambulance staff and volunteers will be on hand to teach CPR at football grounds throughout October, players and mascots will be wearing Restart a Heart campaign t-shirts, CPR videos will be played on the big screens and there will be information in match-day programmes. The activity will take place as follows:
Saturday 8 October - Doncaster Rovers v Leyton Orient and Sheffield Wednesday v Cheltenham Town
Saturday 15 October - Sheffield United v Blackpool and Harrogate Town v Hartlepool United
Sunday 16 October - Hull City v Birmingham City and Leeds United v Arsenal
Tuesday 18 October - Huddersfield Town v Preston North End
Saturday 22 October - Rotherham United v Hull City
Saturday 29 October - Barnsley FC v Forest Green
* The 2021 data is provisional and will be confirmed when the Annual Epidemiology Report for Out-of-Hospital Cardiac Arrest Outcomes is published by the University of Warwick late October 2022. These figures relate to bystander CPR rates for non-witnessed and bystander-witnessed cases. The national figures for bystander CPR are 55.2% (2014) to 73.5%* (2021).