Defibrillators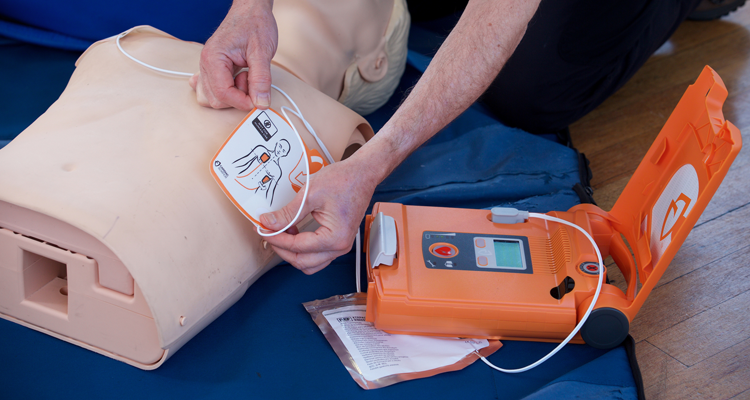 Defibrillators give a high energy electric shock to the heart of someone who has suffered a cardiac arrest to restore the heart's normal rhythm.
Combined with CPR, defibrillators give cardiac arrest patients the best possible chance of survival.
The devices are easy to use, provide audible instructions to the user and will not deliver a shock unless it is required. No training is required to use the equipment.
The location of defibrillators - often in yellow or green cabinets in public spaces - can sometimes be marked with a white heart on a green background, or they could just be mounted on a wall behind a bar, in gyms, leisure centres, offices, tourist information centres, schools, colleges, railway stations, restaurants - anywhere at all.
If someone has suffered a cardiac arrest and you need a defibrillator, staff in our Emergency Operations Centre can direct 999 callers to their nearest device and provide a code to the secure cabinet it's contained in if necessary.
Do you have a defibrillator nearby?
There are more than 3,000 known defibrillators across Yorkshire. Having a defibrillator in your workplace or local community can save lives.
Yorkshire Ambulance Service is working with community groups and charities, including the Yorkshire Ambulance Service Charity , to encourage the introduction of as many community Public Access Defibrillators (cPADs) across Yorkshire as possible.
Buying a defibrillator
If you are considering buying a defibrillator for your community, or would like to register a new defibrillator, please contact the Yorkshire Ambulance Service Community Resilience Department in the first instance, email yas.communityresilienceaed@nhs.net or phone 0333 1300516.
Register your defibrillator
If you have a defibrillator in your workplace, school or local community, don't forger to register it with The Circuit so that we know it's available to help save lives. It's quick and easy to do – you'll just need a few key details to hand such as information around the location and information about the defibrillator itself.
To set up your account on The Circuit, and to register your defibrillator with us, please click here.