Schools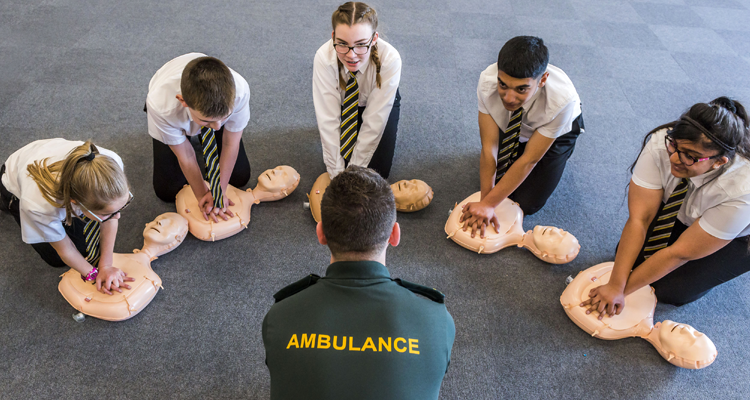 Restart a Heart Day 2021 will be held on Friday 15 October.
We are hopeful that our usual face-to-face CPR training will be able to resume in 2021. Registration has now closed for schools to take part in Restart a Heart Day 2021; we are also be offering online lessons for those who would prefer. 
On Restart a Heart Day, a number of instructors (based on the number of students you have requested training for) will visit your school to teach the children how to perform CPR using our own training video with practical instruction on inflatable manikins (the Call Push Rescue training kits are provided free of charge by the British Heart Foundation) or with our training aid, Pillow Partners.
We can teach up to 30 pupils at a time and each session takes 30 minutes so we can potentially teach 300 students at each school throughout the day. All we need is an appropriate-sized room and access to a DVD player and large-screen television/projector screen (with speakers).
The instructors are predominantly Yorkshire Ambulance Service staff who have volunteered to deliver this training on their day off. Most of the staff will be clinicians (Paramedics/Emergency Medical Technicians etc.) but there may also be staff from other departments providing assistance. We have a large number of community first responders who will be involved and we work in partnership with St John Ambulance, Yorkshire's fire and rescue services, NHS organisations and other partners.
Social media
We would love your support to help us raise awareness of the value of CPR and encourage members of the public to learn this vital skill. Here are some images you can share to spread the word on social media.