How do I perform CPR?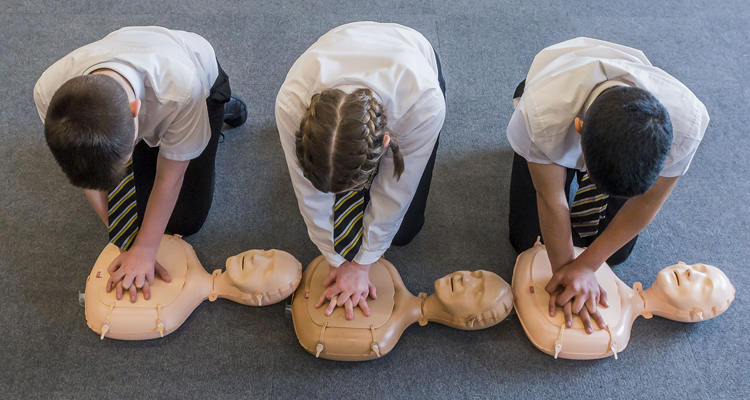 If you witness a cardiac arrest, it is important to call 999 and start CPR straight away.
Hands-only CPR
Place the heel of your hand on the breastbone at the centre of the person's chest. Place your other hand on top of your first hand and interlock your fingers.
Position yourself with your shoulders above your hands.
Using your body weight (not just your arms), press straight down by 5 to 6cm (2 to 2.5 inches) on their chest.
Keeping your hands on their chest, release the compression and allow the chest to return to its original position.
Repeat these compressions at a rate of 100 to 120 times a minute until an ambulance arrives, you become exhausted or the patient starts to show signs of regaining consciousness such as coughing, opening eyes, speaking or breathing.
If you have been trained in CPR, including rescue breaths, and feel confident using your skills, you should give chest compressions with rescue breaths. If you're not completely confident, attempt hands-only CPR instead.
CPR with rescue breaths
Adults
Place the heel of your hand on the centre of the person's chest, then place the other hand on top and press down by 5 to 6cm (2 to 2.5 inches) at a steady rate of 100 to 120 compressions a minute.
After every 30 chest compressions, give 2 rescue breaths.
Tilt the casualty's head gently and lift the chin up with 2 fingers. Pinch the person's nose. Seal your mouth over their mouth, and blow steadily and firmly into their mouth for about 1 second. Check that their chest rises. Give 2 rescue breaths.
Continue with cycles of 30 chest compressions and 2 rescue breaths until they begin to recover or emergency help arrives.
Learn how to do CPR with this video
Resuscitation Council (UK) guidelines which contain detailed information about basic and advanced life support for adults, paediatrics and newborns can be found here - https://www.resus.org.uk/resuscitation-guidelines/
Further information can also be found at https://www.nhs.uk/conditions/first-aid/