Learn CPR in 90 seconds
10 October 2022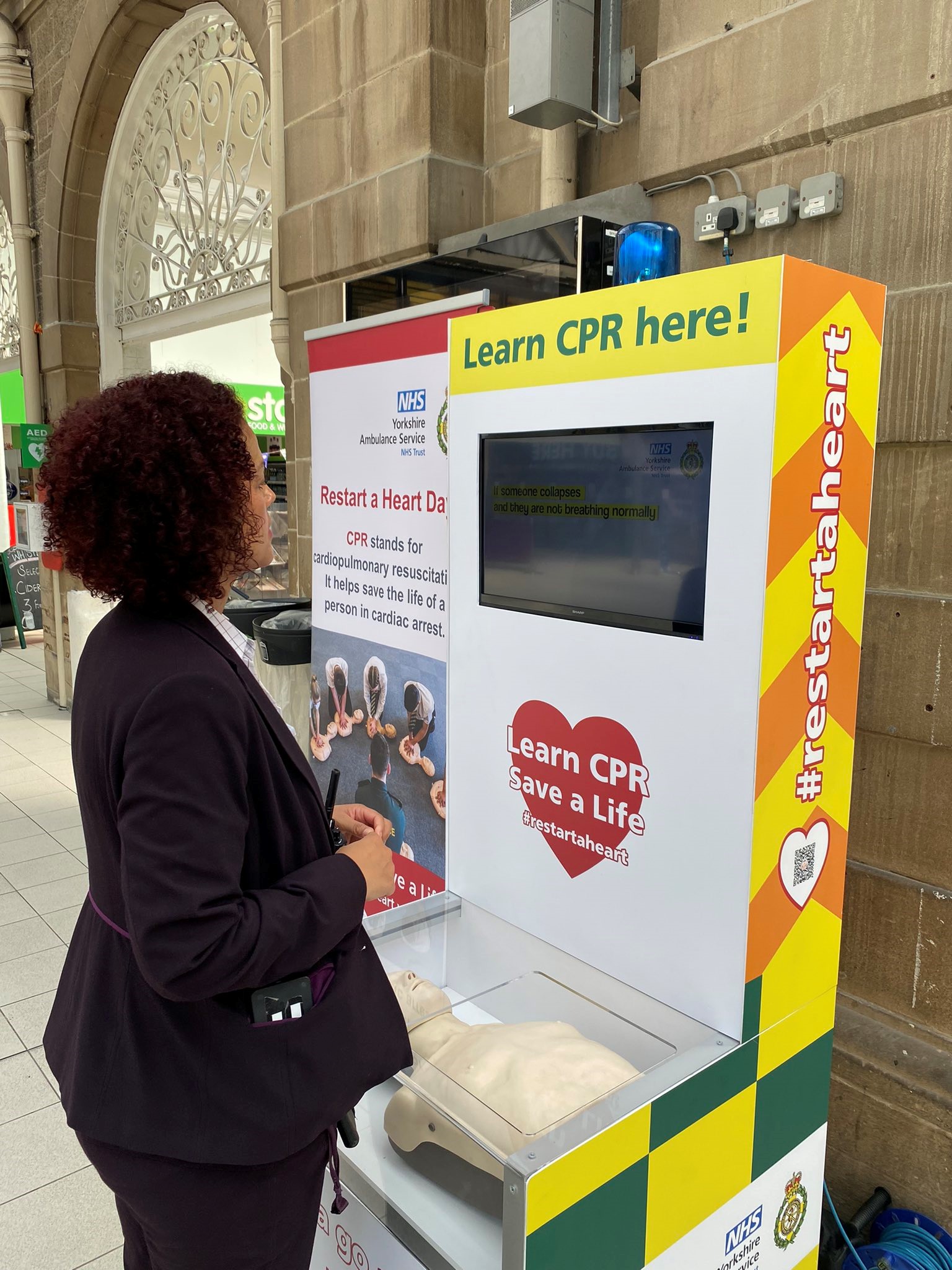 Yorkshire Ambulance Service has developed an innovative way of teaching life-saving CPR – a mobile kiosk – believed to be the first of its kind in the UK.
The hands-only CPR training kiosk teaches the simple, yet life-saving skills of CPR in just 90 seconds. Users watch a tutorial video and practise on a manikin which provides feedback about the effectiveness of the chest compressions.
The unit was the idea of Jason Carlyon, Community Engagement Manager with Yorkshire Ambulance Service, who had seen similar kiosks being successfully used in high-traffic, public locations, such as airports, across America.
After initial consultation with Sheffield-based print and display specialists, Broadsword, the process began to develop a prototype CPR training unit. Now the unit is ready to be launched to mark Restart a Heart Day 2022.
Jason said: "We want to improve the accessibility of CPR training and increase the number of people trained in the important life-saving skill. The kiosks provide self-instruction for the public to learn hands-only CPR.
"I'd like to say a massive thank you to Broadsword for developing the prototype and making repeated changes following an extended period of user testing. We are now looking forward to siting the kiosk in busy public areas such as shopping centres and airports across Yorkshire so more people can learn this vital skill."
Dave Race, at Broadsword, said: "We're delighted to be involved in this project, not only to assist a great cause but to provide access for the wider community to vital life-saving skills."
There are 30,000 out-of-hospital cardiac arrests in the UK every year, but survival rates are stubbornly low at less than 10%. When a child or adult has a cardiac arrest, survival depends on immediately receiving CPR from someone nearby.
The unit will be officially launched on Friday 14 October at Howden School, one of the 137 schools taking part in the annual mass CPR training session with Yorkshire Ambulance Service to mark Restart a Heart Day.