Fundraising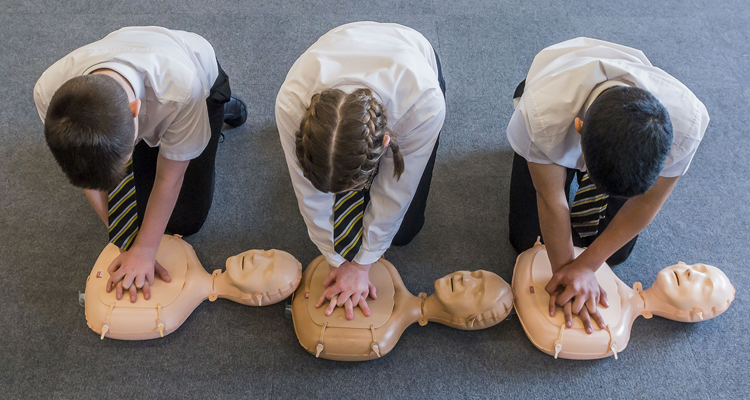 Restart a Heart Day is proudly supported by the Yorkshire Ambulance Service (YAS) Charity. By raising funds for the charity, you will help us to provide more life-saving training and defibrillators across Yorkshire.
Fundraising ideas
CPR-A-THON
Use your new skills and have fun with our sponsored CPR-A-THON. In teams of 4-6, test yourselves and see how long you can do CPR for. This is a big challenge which will show you how hard it can be to continue with these life-saving actions. You could do this relay over lunchtime or breaks - aim for 45-60 minutes. Each team member will take turns to complete one minute of CPR before the next person takes over.
Maximise your fundraising by seeking sponsors in advance. You could even hold the event in a public place so that people can watch, that way you'll be raising awareness of CPR too.
Be a 'heart throb'… dress up, dress down, dress red
Why not hold a non-uniform day? It's the easiest form of school fundraising, ask everyone for a donation in return for not wearing uniform.
Maximise your fundraising: You can 'charge' all those 'stick in the mud' staff for not dressing up too. Encourage everyone to get involved by offering prizes for the most inventive or 'on theme' outfits. Most of all have fun!
Set up a Smoothie Bar
Everyone holds cake sales but your challenge is to set up a smoothie bar to fuel your
healthy heart! Get together with your friends to sell smoothies or ask your canteen to get involved and ask for a donation for each smoothie. Maximise your fundraising by asking supermarkets or local shops for donations of fruit and smoothie ingredients. Hold a competition for your smoothie recipe to come to life. Take pre-orders to help plan ahead with ingredients.
Or you could set up a healthy tuck shop and sell nutritious snacks like natural yoghurt with fruit, plain popcorn, bread sticks and cheese, pitta bread and houmous.
Take on the 999 challenge
999 is our life-saving number and you are challenged to do something 999 times! Students could run 999 metres or hop, skip or jump 999 times.
Could you get 999 people to do something silly or unusual ? 999 people playing musical statues, 999 people singing together – or why not try for 999 people in a 'selfie'?! You get the concept and your students' ideas are the only limit!
Promote healthy hearts
Why not bring your CPR training to life on Restart a Heart Day by encouraging your students to think about the wider aspects of how their health affects their heart. Get the whole school involved in assemblies and projects on the big day or in the weeks after it.
Look at the impact of sport and exercise on a healthy heart – hold a cross school tournament, sponsored boot camp or staff verses student match.
Promote 'heart friendly' foods in your diet.
Talk about what a cardiac arrest is and the role of CPR.
Take part in a fundraising activity to support Restart a Heart Day.
Supporting your fundraising
We would love to support you with your fundraising - please get in touch as it would be great to hear your plans.
You can download a sponsorship form to print off here.  We can also help with other fundraising ideas, posters, advice and lots more!
Please email yas.charity@nhs.net or call 01924 584369.