About Us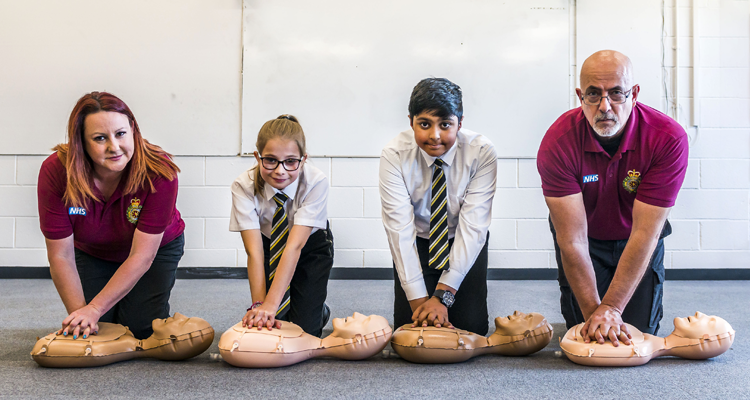 Restart a Heart Day was developed in 2013 by the European Resuscitation Council to encourage others to teach members of the public how to help restart the heart of someone who has suffered a cardiac arrest.
The following year, Yorkshire Ambulance Service NHS Trust offered all secondary schools in Yorkshire the opportunity to receive free CPR training for pupils on Restart a Heart Day (on or around 16 October).
In 2014 we visited 49 schools and taught CPR to 11,500 youngsters – with the help of hundreds of volunteers, mostly off-duty staff and community first responders. 
In 2016 the life-saving initiative, pioneered in Yorkshire, was rolled out to all UK ambulance services and two years later was adopted by the International Liaison Committee on Resuscitation to encourage mass CPR training on a global scale under a World Restart a Heart Day banner. Participating countries included America, Canada, Australia, New Zealand, South Africa, Saudi Arabia, India and many others across Europe.
The event has continued to go from strength to strength; in the last nine years on Restart a Heart Day we have taught life-saving skills to an incredible 202,529 youngsters at the majority of Yorkshire's secondary schools and the event is now a firm fixture on calendars nationally and internationally. This year we are celebrating our tenth Restart a Heart Day which is set to be our biggest yet!
Over 30,000 people suffer a cardiac arrest out of hospital in the UK every year. The earlier a patient can receive CPR and a shock from a defibrillator, the greater their chance of survival.
Currently in the UK, less than one in 10 (8.6%) survive a cardiac arrest. If we achieved the same survival rates as countries like Norway (25%) – where CPR is taught more widely as well as in schools - an additional 100 lives could be saved every week – the equivalent of approximately 5,000 every year.