Community steps in to save neighbour's life
16 October 2023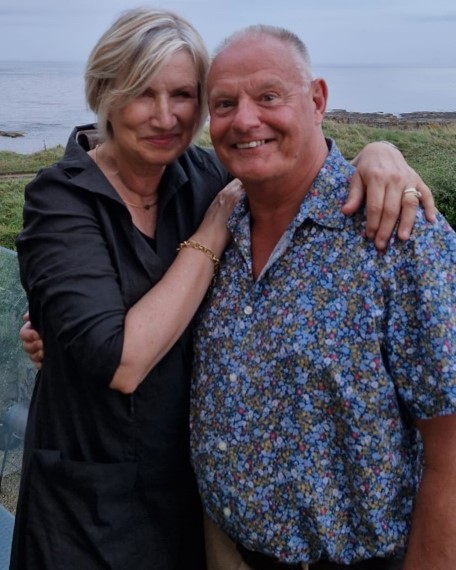 "I have felt that wonderful feeling of saving someone's life. Nothing beats it. I have now also felt the other side where somebody has saved my life."
These are the words of Keith Townson who has been a volunteer Community First Responder (CFR) with Yorkshire Ambulance Service for more than six years, responding to emergency calls in and around his community of Burton Leonard, near Ripon.
The tables were turned when he had a cardiac arrest at his home on Christmas Eve 2021, while having a cuppa with his wife Carol. They had asked their postman Paul Convey to come to the door to collect his Christmas present, which proved to be a life saver.
Carol phoned 999 and started CPR while Paul rushed to alert nearby CFR Coordinator Derek Clarke. A second CFR, Jonathan Baker, also arrived to help and between them they continued with CPR and used a defibrillator to save his life.
Sixty-seven-year-old Keith said: "During the 20 minute-long resuscitation attempt, I was shocked with a defibrillator six times. Because nobody gave up on chest compressions, the paramedics got a pulse and took me to Leeds General Infirmary for heart surgery.
"I was so lucky and can't thank Carol, Derek, Jonathan and Paul enough for keeping me alive so the ambulance crew could continue with the life-saving attempt."
Keith, a retired mechanical engineer, was taken to Leeds General Infirmary where he had three stents fitted (in addition to two stents he had fitted in May 2021) and has since made a good recovery.
"Not only does the incident highlight the value of CFR schemes where villagers come together to help one another in emergencies, but it also emphasises the importance of CPR and defibrillators in the first few moments of a cardiac arrest," he said. "I feel very lucky to be a CFR.
"Christmas Eve shall always remain in my mind as a time of year where our village came together to help somebody.  I may have suffered a couple of cracked ribs and they may have made a mess of my Christmas jumper but I'm here to tell the tale for another day!"
Burton Leonard's CFR scheme was one of the region's first CFR schemes, established over 20 years ago. Derek has completed over 20 years' service and Jonathan has completed 19 years' service.