Life-saving Student Urges Secondary Schools to Sign Up for Restart a Heart Day
14 February 2020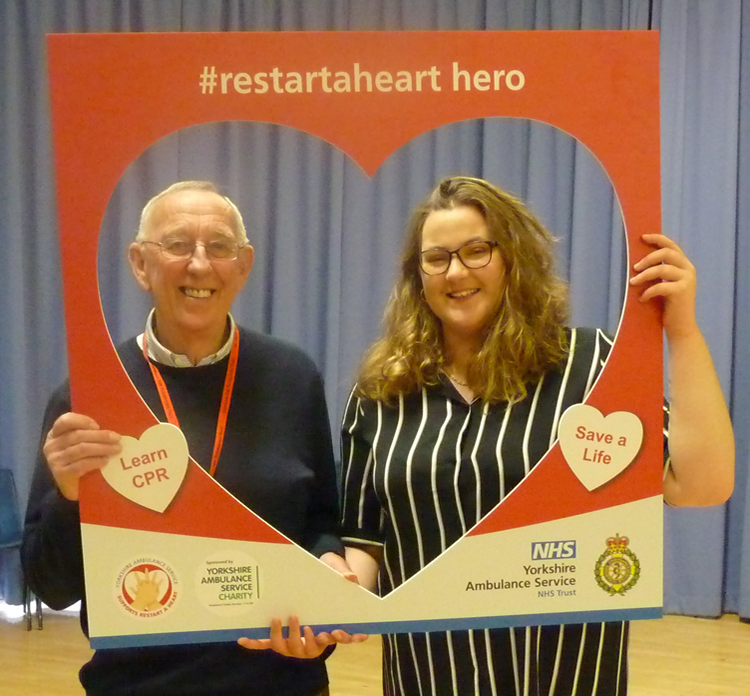 A student who saved a stranger's life with skills she learnt on Restart a Heart Day is urging the county's secondary schools to sign up for the Yorkshire Ambulance Service event in October.
Registration is now open for secondary schools to get involved in Restart a Heart Day (Friday 16 October 2020) when Yorkshire Ambulance Service hopes to provide CPR training to 45,000 students in one day – thanks to the efforts of more than 800 volunteers!
Twenty-one-year-old Martha Hogg saved Keith Procter's life after performing CPR, a technique she had learned at Skipton Girls' High School on Restart a Heart Day in 2015.
Martha was working at Caffé Nero in Skipton during a break from studying psychology at Newcastle University when Keith, of Ilkley, collapsed in cardiac arrest last year. Thanks to Martha's actions, the 72-year-old has made a great recovery.
Martha - who has become an Ambassador for Yorkshire Ambulance Service's Restart a Heart Day campaign in recognition of her efforts - said: "I can't tell you how thankful I am that I had the skills and confidence to be able to save Keith's life last year.
"Teaching CPR to young people in schools through events like Restart a Heart Day is so important - what's better than knowing that you could help save the life of a friend, family member or even a stranger in the street.
"I would encourage all secondary schools to take part in this year's Restart a Heart Day and give their pupils the skills they need to really make a difference if someone has a cardiac arrest," added Martha, whose parents live in Cononley, near Keighley.
The heart-warming story is celebrated in a video released by Yorkshire Ambulance Service today to mark the launch of the 2020 event. It can be viewed at https://youtu.be/H94mSj1Gs-8.
Jason Carlyon, Senior Engagement Lead (Community) for Yorkshire Ambulance Service, said: "Providing bystander CPR in the first few minutes of someone having a cardiac arrest is vital and Martha's story is testimony to that. The more people we can educate, the more lives we will be able to save."
Over the last six years on Restart a Heart Day, Yorkshire Ambulance Service has provided free CPR training to more than 151,000 youngsters at 82% of the secondary schools across Yorkshire.
Currently in the UK, less than one in ten (8.6%) people survive a cardiac arrest. If we achieved the same survival rates of countries like Norway (25%), where CPR is taught in schools, an additional 100 lives could be saved each week - the equivalent of approximately 5,000 every year.
Supported by the Yorkshire Ambulance Service Charity, the event is delivered in partnership with the Resuscitation Council (UK), British Heart Foundation (BHF) and St John Ambulance. The equipment required will be provided free of charge by the BHF and there will be certificates of completion for all participating pupils.
If your secondary school would like to take part in the event, you can register via the Yorkshire Ambulance Service Restart a Heart Day homepage at www.restartaheart.yas.nhs.uk . The deadline for applications is Friday 3 April 2020.