Her Majesty's West Yorkshire Lieutenancy supports life-saving campaign
15 October 2020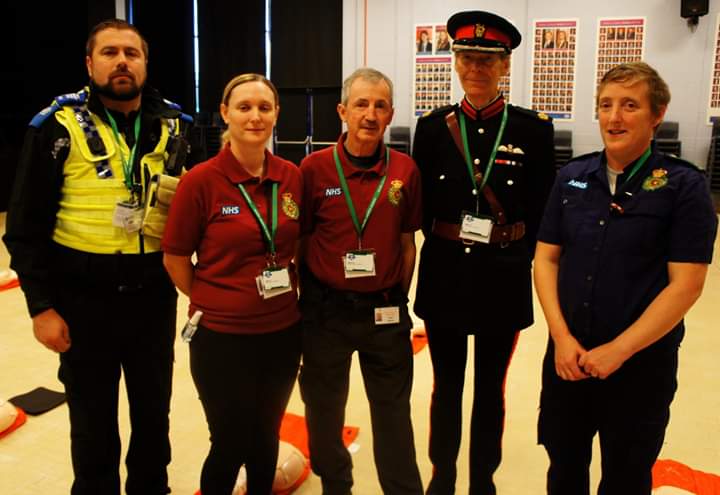 Her Majesty's West Yorkshire Lieutenancy has pledged its continued support for Yorkshire Ambulance Service's Restart a Heart campaign.
Ed Anderson, the Lord Lieutenant of West Yorkshire, recorded a video endorsing the value of the initiative which aims to teach CPR and help improve cardiac arrest survival rates.
It is particularly relevant to the Lieutenancy as one of the Deputy Lieutenant's, Neil Davidson, had a cardiac arrest and was saved by his son who performed CPR, a skill he had learnt when he was at school.
Mr Anderson said: "Luckily for Neil, his son was in the house and while he waited for medical help to arrive he performed CPR on his dad. He actually saved his dad's life and that is why this is such a vital and essential skill for everyone to learn.
"We hope you will never be in a position where you will have to save someone's life but if you are, you will know what to do. Thank you to all the schools who take part in the Restart a Heart programme and a massive thank you to Yorkshire Ambulance Service and all the volunteers who deliver this programme."
When restrictions allow, Deputy Lieutenants attend around 50 secondary schools across West Yorkshire on Restart a Heart Day to see the CPR training in action.
Jason Carlyon, Senior Engagement Lead (Community) for Yorkshire Ambulance Service said: "We are so grateful to the Lieutenancy for all their support over the years; they have always great advocates of our CPR campaign and we were delighted when Neil Davidson joined the team as one of our Ambassadors two years ago."