Yorkshire Hosts World's Only Underground CPR Lesson on Restart a Heart Day
16 October 2019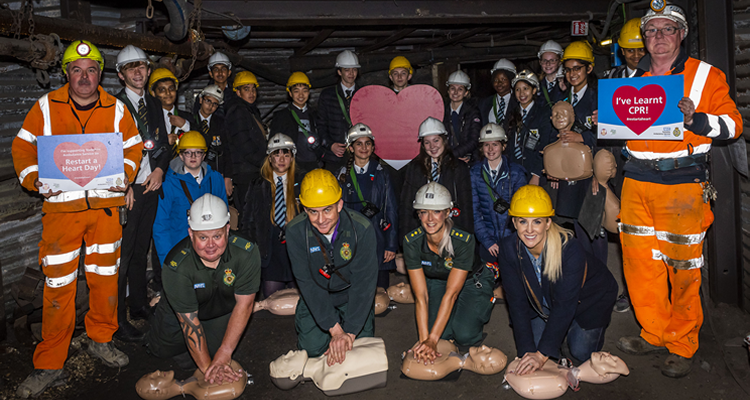 If you can learn cardiopulmonary resuscitation (CPR) 140 metres underground, you can learn it anywhere!
An international challenge to organise lifesaving lessons in iconic locations saw Yorkshire Ambulance Service (YAS) teach CPR to students 'darn t'pit' in England's last deep coal mine on Restart a Heart Day.
While demonstrations took place everywhere from Stonehenge in Wiltshire, the Colosseum in Rome and Mecca in Saudi Arabia, YAS reflected Yorkshire's mining heritage and visited Caphouse Colliery at the National Coal Mining Museum for England in Overton, Wakefield.
Paramedics joined by YAS Chief Executive Rod Barnes and Halifax singer Lizzie Jones to take students from Wakefield Girls' High School and Queen Elizabeth Grammar School in Wakefield underground to learn how to save the life of someone in cardiac arrest.
This event took place as more than 800 YAS staff, volunteers and partners visited 165 secondary schools to teach CPR to around 40,000 students in just six hours to mark Restart a Heart Day.
Jason Carlyon, Yorkshire Ambulance Service Lead for Restart a Heart Day, said: "This year we taught CPR to more students than ever before on Restart a Heart Day and it was only fitting that we accepted the international challenge of organising a life-saving lesson at an iconic location – where could be more Yorkshire than down pit!
"Our volunteers taught in hundreds of classrooms at schools across Yorkshire and it was great to visit somewhere a little unconventional! Cardiac arrests can happen anywhere and by performing CPR in the critical minutes before the ambulance arrives gives the patient the best possible chance of survival."
Jenny Layfield, National Coal Mining Museum Director, said: "What a brilliant and unusual way to learn such an important life skill - if you can perform CPR 140m underground then you can do it anywhere! The National Coal Mining Museum is really keen to work with the NHS and other key partners to develop skills across our communities and share our unique experience with a wider audience. We are really pleased that today has gone so well. "
Former mines rescuer and underground guide at the museum, Chris Schofield, who lives in Lofthouse, said: "I know all too well the importance of CPR, having performed it on many occasions, successfully and unsuccessfully, but the worst thing you can do in this ultimate medical emergency is nothing. When you work underground, the space is confined, difficult to access and a long way from help, so having those skills is particularly vital. But it's something everyone should learn because you never know when you might need it."
Fourteen-year-old Brianna Greenwood, from Wakefield Girls' High School, said: "It's been an incredible experience. A lot of school children get to learn CPR on Restart a Heart Day because it's such an important skill. I'm so pleased that we had the opportunity to learn underground and in such a unique environment."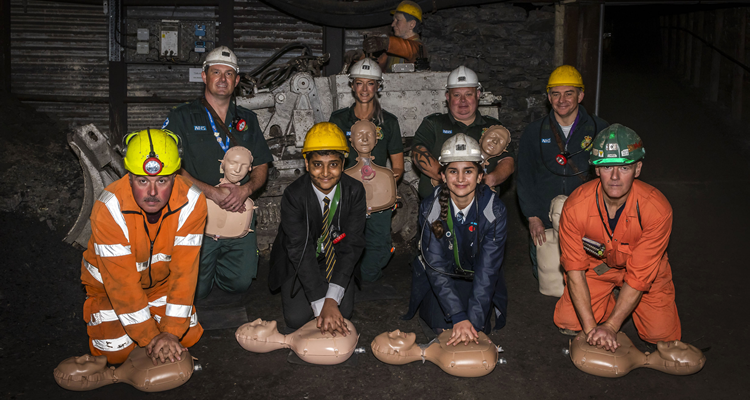 Connor Singleton, aged 15, from Queen Elizabeth Grammar School in Wakefield, said: "It's so important to learn CPR. You never know when you might need to use it to save someone's life. Visiting the mine has prepared us that a cardiac arrest can happen anywhere."
Currently in the UK, less than one (8.6%) in ten people survive a cardiac arrest. If we achieved the same survival rates of countries like Norway (25%), where CPR is taught in schools, an additional 100 lives could be saved each week - the equivalent of approximately 5,000 every year.
Over the last five years on Restart a Heart Day, Yorkshire Ambulance Service has provided free CPR training to more than 105,000 youngsters at 72% of the secondary schools across Yorkshire.
The event - sponsored by the Yorkshire Ambulance Service Charity - is organised in partnership with the British Heart Foundation, which supplies free Call Push Rescue training kits (including manikins and a tutorial DVD) to participating schools as part of its Nation of Lifesavers campaign, Resuscitation Council (UK), St John Ambulance and other partners.