Yorkshire Hosts World's Only Underground CPR Lesson as Former Restart a Heart Day Student Celebrates Saving a Life
16 October 2019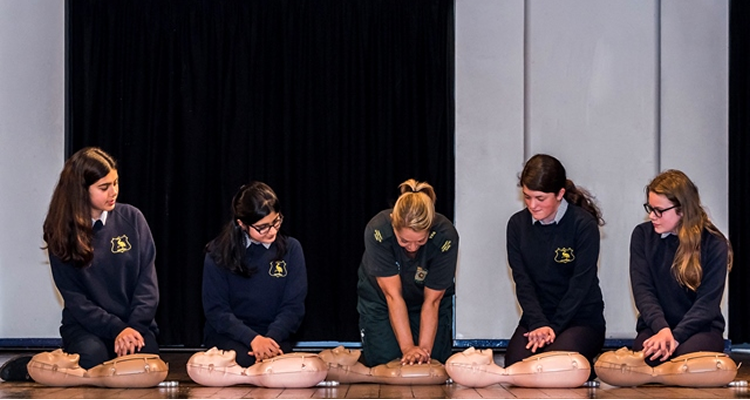 An international challenge to organise lifesaving lessons in iconic locations will see Yorkshire Ambulance Service (YAS) teach CPR to students 140 metres underground  'darn t'pit' in England's last deep coal mine on Restart a Heart Day.
While demonstrations will take place everywhere from Stonehenge in Wiltshire, the Colosseum in Rome and Mecca in Saudi Arabia, YAS will be reflecting Yorkshire's mining heritage by visiting Caphouse Colliery at the National Coal Mining Museum for England in Overton, Wakefield.
Paramedics will take students from Wakefield Girls' High School and Queen Elizabeth Grammar School in Wakefield underground to learn how to save the life of someone in cardiac arrest on Wednesday 16 October.
This will take place as more than 800 YAS staff, volunteers and partners visit 165 secondary schools to teach CPR to around 40,000 students in just six hours – including one school where a former Restart a Heart Day student has used the skills she learnt to save a life!
Jason Carlyon, Yorkshire Ambulance Service Lead for Restart a Heart Day, said: "Not only will we be training more students than ever before on Restart a Heart Day, we will also be going underground to provide a lesson in a more unconventional environment and celebrating the success of one of our former students who has gone on to save a life by performing CPR. It's going to be a particularly memorable year as we continue in our efforts to improve cardiac arrest survival rates."
Former mines rescuer and underground guide at the museum, Chris Schofield, who lives in Lofthouse, said: "I know all too well the importance of CPR, having performed it on many occasions, successfully and unsuccessfully, but the worst thing you can do in this ultimate medical emergency is nothing. When you work underground, the space is confined, difficult to access and a long way from help, so having those skills is particularly vital. But it's something everyone should learn because you never know when you might need it."
Skipton Girls' High School is celebrating the success of one of its former students who saved a stranger's life by performing CPR - a skill she learned on Restart a Heart Day four years ago!
Twenty-one-year-old Martha Hogg was working at Café Nero in Skipton during a break from university when a customer, Keith Procter, collapsed in cardiac arrest earlier this year.
Thanks to her lifesaving actions, 71-year-old Keith, of Ilkley, has made a great recovery and will join Martha at Skipton Girls' High School on Restart a Heart Day to speak to students about why their CPR lesson is so important.
Keith, of Ilkley, said: "For her to have done the training at school four years ago and performed CPR so well that she saved my life is quite incredible and is testimony to Martha as a person and to all those who work hard to give people these lifesaving skills. Martha will always be our special angel; she should feel so proud of herself and I won't ever be able to thank her, or the ambulance staff, enough."
Also supporting the event is mum-of-two Melanie Robinson who suffered four cardiac arrests on Restart a Heart Day last year.
Within four hours of calling 999 because she had chest pain, she had been resuscitated four times by an ambulance crew, undergone emergency surgery to have a stent fitted and was drinking tea on the coronary care unit at Leeds General Infirmary. 
The 52-year-old, of Morley, Leeds, said: "I can't put into words how grateful I am for what the ambulance crew did for me that day. I feel so lucky. I couldn't believe it when I found out I had suffered my cardiac arrests on Restart a Heart Day which is an amazing initiative and I am thrilled to be able promote the benefits of CPR in any way I can."
Sixty-five-year-old cardiac arrest patient Kevin Moore will be visiting Castleford Academy with his lifesaver Chris Blackwell on Restart a Heart Day. They will also be joined by Restart a Heart Day Ambassador Lizzie Jones, widow of Danny Jones, Welsh International and Keighley Cougars Rugby League player, who died aged 29 after suffering a cardiac arrest during a match in May 2015.
Kevin, of East Hardwick, near Wakefield, collapsed after playing football and was resuscitated by Chris who had learnt CPR on a first aid course six weeks earlier. Kevin was shocked using an on-site defibrillator which had been installed just 14 days previously. 
Kevin said: "I feel lucky that there was someone with the skills who was brave enough to do CPR, lucky that they had a defibrillator, lucky that the ambulance crew were not far away which cumulatively meant that I survived, and I feel good. I can't thank everyone enough."
York mum Kate Hardy who saved her husband Carl's life on 26 August 2019 by performing CPR will share her experiences with students learning the lifesaving skill at Archbishop Holgate's School in York. Carl has made a full recovery.
Kate, a support worker at Hempland Primary School in York, said: "I have always been first aid at work trained but I have never had to deal with anything like this. It's unbelievable how life can change. One minute we were preparing for a barbecue and the next I was doing CPR. I am just so thankful I had the training and knew what to do."
Cardiac arrest survivor Gary Connor will be sharing his experiences of why CPR is so vital with students at his teenage son's school - Holderness Academy, Preston, Hull - on Restart a Heart Day.
Gary's life was saved earlier this year by a team of Yorkshire Ambulance Service staff who performed CPR and used a defibrillator when he collapsed at his home in Sproatley Road, Preston, Hull. One of the Paramedics, Jon Thordarson, will be joining Gary at the school for the event.
Fifty-two-year-old Gary said: "Thank you is not a big enough word when it comes to expressing your gratitude to those who have saved your life. I was lucky in that I had my cardiac arrest in front of people who could perform CPR and use a defibrillator.
"I'm thrilled that my son's school is taking part in Restart a Heart Day and giving students the skills to save a life; it's something everyone should learn."
Currently in the UK, less than one (8.6%) in ten people survive a cardiac arrest. If we achieved the same survival rates of countries like Norway (25%), where CPR is taught in schools, an additional 100 lives could be saved each week - the equivalent of approximately 5,000 every year.
Over the last five years on Restart a Heart Day, Yorkshire Ambulance Service has provided free CPR training to more than 105,000 youngsters at 72% of the secondary schools across Yorkshire.
The event - sponsored by the Yorkshire Ambulance Service Charity - is organised by Yorkshire Ambulance Service in partnership with the British Heart Foundation, which supplies free Call Push Rescue training kits (including manikins and a tutorial DVD) to participating schools as part of its Nation of Lifesavers campaign, Resuscitation Council (UK), St John Ambulance and other partners.