YAS Welcomes Introduction of CPR on Curriculum
03 January 2019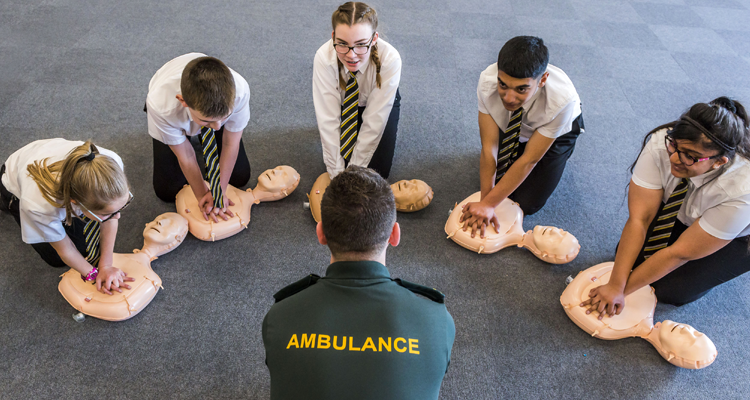 Yorkshire Ambulance Service NHS Trust (YAS) has welcomed today's Government announcement that cardiopulmonary resuscitation (CPR) and other first aid skills will be added to the national curriculum in England from 2020.
Education Secretary Damian Hinds has confirmed that by the end of secondary school, pupils will have been taught how to administer CPR, the purpose of defibrillators, and basic treatments for common injuries.
Over 30,000 people suffer cardiac arrests outside of hospital in the UK every year and currently less than one in 10 survive. Chances of survival can treble if someone having a cardiac arrest is given early CPR and defibrillation.
Rod Barnes, Chief Executive of Yorkshire Ambulance Service, welcomed the landmark development.
He said: "This is fantastic news which will undoubtedly have a positive impact on cardiac arrest survival rates in the future. By teaching young people these essential life-saving skills, they will have the confidence to help patients in cardiac arrest prior to the arrival of an ambulance.
"Less than 1 in 10 people currently survive an out-of-hospital cardiac arrest in the UK, but evidence suggests nearly 1 in 4 could survive if all young people are provided with CPR training."
Yorkshire Ambulance Service has been committed to providing young people with CPR skills since 2014 as part of the Restart a Heart Day campaign, led by Clinical Development Manager Jason Carlyon.
Over the last five years, 105,000 secondary school pupils across Yorkshire have been given life-saving skills by ambulance staff and volunteers on Restart a Heart Day in conjunction with the British Heart Foundation, Resuscitation Council and St John Ambulance.
In February, registration will open for Yorkshire secondary schools who would like to take part in Restart a Heart Day on Wednesday 16 October 2019. Further information will be provided at www.restartaheart.yas.nhs.uk