Martha is our Restart a Heart Day Hero
16 October 2019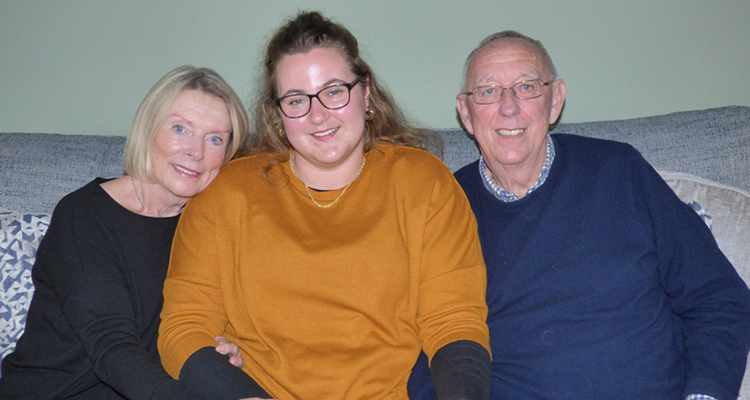 Twenty-one-year-old Martha Hogg saved a stranger's life by doing CPR – a skill she had learned when Yorkshire Ambulance Service visited her school on Restart a Heart Day four years ago.
Martha was working at Café Nero in Skipton during a break from studying psychology at university when a customer, Keith Procter, collapsed in cardiac arrest earlier this year.
She quickly recognised the seriousness of the emergency and started performing CPR which she had learned at Skipton Girls' High School on Restart a Heart Day in 2015.
Thanks to her life-saving actions, 71-year-old Keith has made a great recovery and is keen to promote the importance of initiatives like Restart a Heart Day when Yorkshire Ambulance Service will visit 165 secondary schools to provide CPR training to around 40,000 young people.
Keith and his partner Kathy Connolly, who live in Ilkley, will join Martha at Skipton Girls' High School on Wednesday 16 October when they will speak to students taking part in this year's Restart a Heart Day about why the CPR lesson is so important.
He said: "For her to have done the training at school four years ago and performed CPR so well that she saved my life is quite incredible and is testimony to Martha as a person and to all those who work hard to give people these life-saving skills. Martha will always be our special angel; she should feel so proud of herself and I won't ever be able to thank her, or the ambulance staff, enough.
"It's so much easier to retain information when you are young so to teach young people this life-saving skill is vital and Martha is living proof of that."
Martha, who was staying with her parents Angela and Paul, who live in Cononley, recalled: "I did the basic checks and realised Keith had suffered a cardiac arrest so my colleague Vickie called 999 and the CPR training I had received at school all clicked into place. I am so grateful to Yorkshire Ambulance Service and Skipton Girls' High School for giving me the skills that I needed to save Keith's life."
Ambulance clinicians took over the life-saving efforts when they arrived on scene and used a defibrillator three times to shock his heart into a normal rhythm. He was taken to Airedale General Hospital where he had an internal defibrillator fitted.
Chrissy Blakeley, a Community Defibrillation Trainer with Yorkshire Ambulance Service, taught Martha CPR in 2015 and will be returning to the school this year to provide the training to 144 more students.
Chrissy said: "We know that what happens in the first few moments of a patient suffering a cardiac arrest is crucial. I can't tell you how thrilled I am that one of our Restart a Heart Day students has gone on to use her CPR training to save someone's life. That just sums up why it's so important for us to do what we do on 16 October every year and why everyone should learn this vital skill."
Fiona McMillan, Deputy Headteacher at Skipton Girls' High School, said: "The Restart a Heart campaign has meant that over the last five years all our students have had CPR training and the opportunity to refresh this skill year-on-year. To discover that our ex-student Martha had the confidence to 'have a go' when she found herself in the situation and that she kept the patient alive until the ambulance arrived is amazing.  For this reason, we will continue to support Restart a Heart Day each year."