"Lucky" Father-of-two Thanks Life-savers
16 October 2019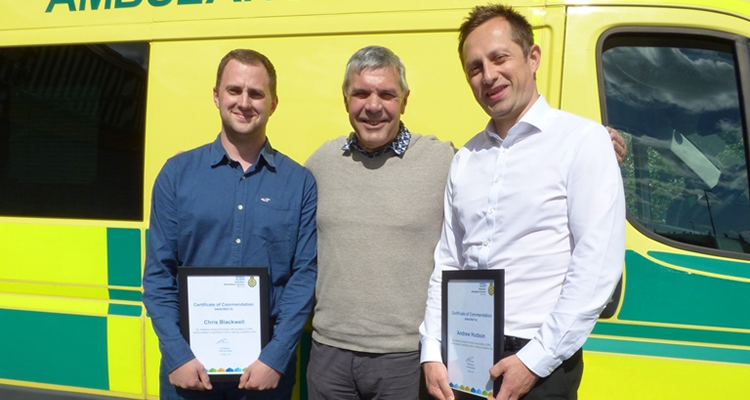 "The stars were definitely aligned; I feel so lucky," said cardiac arrest patient Kevin Moore whose life was saved by two strangers.
The 65-year-old had just played a game of five-a-side football with his son Ben when he collapsed in the changing rooms at A1 Football Factory in Pontefract.
That's when Chris Blackwell – who had learnt CPR on a first aid course six weeks earlier – and his friend Andrew Hudson, who retrieved the on-site defibrillator – which had been installed just 14 days previously – came to his rescue.
Kevin, who lives in East Hardwick, near Pontefract, with his wife Cherry, said: "I feel lucky that there was someone with the skills who was brave enough to do CPR, lucky that they had a defibrillator, lucky that the ambulance crew were not far away which cumulatively meant that I survived, and I feel good. I can't thank everyone enough."
The grandfather-of-five has no recollection of what happened on 14 May 2019, but teammates said he complained of feeling unwell and then collapsed in the changing room.
Chris and Andrew, who were booked to play five-a-side football the following hour, heard the commotion and went to help.
"Someone was calling 999 for an ambulance and when I saw Kevin who was laid on the floor unresponsive so I immediately started CPR. Andrew went for a defibrillator and we shocked him four times," recalled Chris.
Castleford ambulance crew Lisa Jepson and Megan Reilly and South Kirby Specialist Paramedic Richard Stephenson responded to the incident and provided advanced life support, shocking him a further five times, before transporting Kevin to Leeds General Infirmary where he had two stents fitted.
Lisa said: "Chris was doing amazing CPR with rescue breaths and Andrew had been for the defibrillator. Every second counts in these situations and what they did that day was outstanding and undoubtedly gave Kevin the best possible chance of survival."
After being discharged, Kevin suffered a set-back and had request an ambulance when he started with a shortage of breath due to fluid on his lungs – coincidentally it was Lisa and Megan who got the call.
Megan said: "His wife recognised us instantly and it was fantastic to see that he had made a good recovery. Fortunately he wasn't back in hospital for long and is doing really well. To get an outcome like this is a great feeling."
Chris and Andrew both received Yorkshire Ambulance Service Chief Executive Certificates of Commendations for their actions during an event at Castleford Ambulance Station when they were reunited with Kevin and his family.
But it wasn't the first time Kevin had met his rescuers. He had managed to track them down and it transpired that Kevin lived six doors away from Chris's father and Andrew had been at secondary school with his son Ben.
Chris, who lives in Sherburn-in-Elmet, said: "When we met for the first time, it was surreal, like we had known one another for ages. We could have stayed chatting all night; we'll definitely keep in touch.
"The incident has proved the importance of absolutely everyone learning first aid skills including CPR. I learnt the skills six weeks earlier, thinking I would never have to use them, which just proves you never know when you might have to step in to save someone's life and surely it's better to be equipped."