Cardiac Arrest Survivor to Visit Son's School on Restart a Heart Day
16 October 2019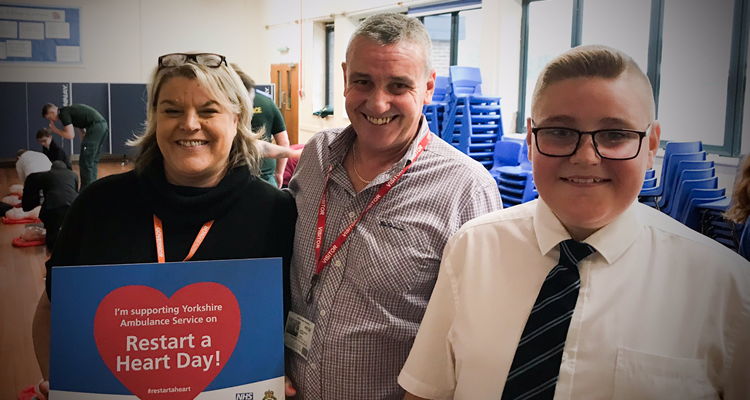 Cardiac arrest survivor Gary Connor will be sharing his experiences of why CPR is so vital with students at his teenage son's school on Restart a Heart Day.
Gary's life was saved earlier this year by a team of Yorkshire Ambulance Service (YAS) staff who performed CPR and used a defibrillator when he collapsed at his home in Sproatley Road, Preston, Hull.
The 52-year-old had woken his wife Lisa in the night because he was feeling unwell and her instinct told her it was serious enough to call 999 for an ambulance.
Lisa recalled: "Gary said he didn't feel well so we went downstairs and he was bending over as if there was something wrong with his arm and then he started vomiting. It all came out of the blue; there had been no other symptoms but I knew I had to call 999. When the ambulance crew arrived, he had a high pain score and they hooked him up to a 12-lead ECG and knew instantly something was wrong."
As Gary was being taken to the ambulance, he suffered a cardiac arrest and the ambulance team - Clinical Supervisor Jon Thordarson, Paramedic Ali Carter, Emergency Care Assistant Becca Salisbury and Emergency Medical Technicians Zoe Hollingsworth and Bekki Cartledge battled to save his life.
Jon is a member of the YAS Red Arrest Team which is made up of ambulance clinicians who have additional training and equipment for the management of out-of-hospital cardiac arrests.
He said: "Gary's survival is down to several things; his wife who recognised the need for an ambulance, the immediate CPR and use of a defibrillator by the ambulance crew on scene when Gary went into cardiac arrest and then the care at the hospital which rectified the cause of the cardiac arrest. It has been great to meet up with him and his family since his cardiac arrest and see how well he is doing."
Gary was taken to Castle Hill Hospital in Cottingham where he had life-saving emergency surgery to have three stents fitted before being discharged five days later.
He has since made a good recovery, given up smoking, started a fitness regime and is looking forward to joining Jon to speak about his experience and the benefits of learning CPR with students at his 12-year-old son Joe's school - Holderness Academy in Preston, Hull - on Restart a Heart Day.
Gary said: "Thank you is not a big enough word when it comes to expressing your gratitude to those who have saved your life. I was lucky in that I had my cardiac arrest in front of people who could perform CPR and use a defibrillator.
"I'm thrilled that my son's school is taking part in Restart a Heart Day and giving students the skills to save a life; it's something everyone should learn."