Ambulance Crew Saves Mum-of-Two on Restart a Heart Day
16 October 2019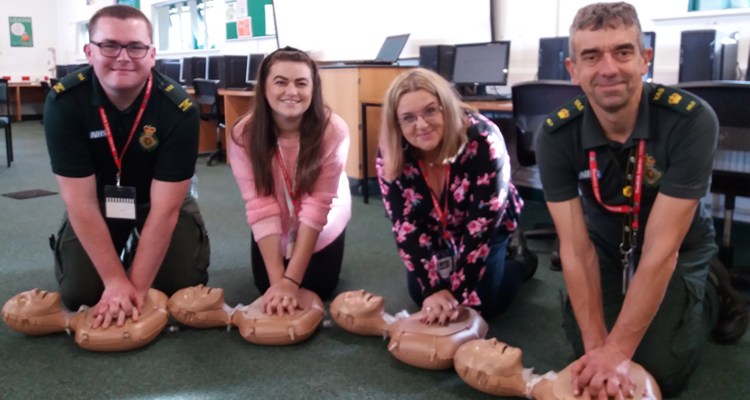 Mum-of-two Melanie Robinson is keen to promote the importance of CPR after she suffered four cardiac arrests on Restart a Heart Day last year.
Melanie had called 999 because she was suffering from chest pain and it was after the ambulance crew had arrived at her home in Morley, Leeds, that her heart stopped beating in front of them.
Within four hours of making the emergency call, she had been resuscitated four times, undergone emergency surgery to have a stent fitted and was drinking a cup of tea on the coronary care unit at Leeds General Infirmary.
Leeds-based Paramedic Craig Cowell attended the emergency with Emergency Care Assistant John Ogden.
He recalled: "Melanie arrested twice in the house and twice on the ambulance and each time we continued with CPR and used a defibrillator to successfully resuscitate her. The reason she kept coming back so well was because CPR was being performed which meant her brain was well-perfused.
"She was lucky in that not many people suffer cardiac arrests in front of us, it usually happens before we get there, but had the circumstances been different, the same outcome could have been achieved had Melanie had been given immediate CPR from a bystander. The importance of CPR cannot be underestimated."
Melanie, 52, has made a good recovery and has returned to her job in the environmental health department at Leeds City Council. She will be visiting Woodkirk Academy in Tingley on Restart a Heart Day to talk about her experiences with youngsters who will be learning CPR.
She said: "I can't put into words how grateful I am for what the ambulance crew did for me that day. I feel so lucky. I couldn't believe it when I found out I had suffered my cardiac arrests on Restart a Heart Day which is an amazing initiative and I am thrilled to be able promote the benefits of CPR in any way I can."