Volunteers at the Heart of World's Biggest CPR Lesson
26 September 2018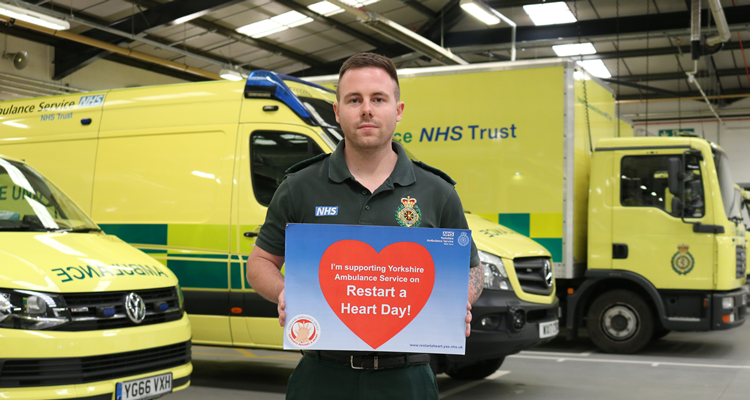 With less than three weeks to go until Restart a Heart Day, we are turning the spotlight on the hundreds of volunteers who will be giving up their time to teach cardiopulmonary resuscitation (CPR) to 25,000 youngsters!
On Tuesday 16 October 2018, Yorkshire Ambulance Service NHS Trust (YAS) hopes to smash the milestone of providing a total of 100,000 schoolchildren with the life-saving skill since the annual event began five years ago.
The success of the event – which has now reached national and international audiences – is largely thanks to the teams of volunteers (around 900 this year) who welcome the opportunity to pass on their CPR skills to secondary school pupils across Yorkshire.
Jason Carlyon, Clinical Development Manager at YAS, who developed the event in Yorkshire with the British Heart Foundation and Resuscitation Council (UK), said: "To think that 210 volunteers helped us to deliver our first Restart a Heart Day in 2014 and this has grown to about 900 volunteers this year - a 343% increase - is phenomenal.
"The majority of volunteers are our off-duty staff and community first responders, but this year we will be supported by over 30 partner organisations, including fire and rescue services, hospitals, St John Ambulance, STEM Ambassadors, student medics, Mountain Rescue and Lifewise.
"Many have personal experiences of either giving or receiving CPR and understand the value of how it can really make a difference to cardiac arrest patients. I'd like to say a massive thank you to each and every one of them!"
Student Paramedic Sean Dooley, who works and lives in Harrogate, has taught CPR on Restart a Heart Day for the last two years.
He said: "Originally I wanted to visit my old school, Harrogate High School, to pass on my skills. Early CPR saves lives so if someone can start CPR before we arrive on scene, it can make a big difference to the outcome of the patient."
St John Ambulance volunteer Russell Blinman, of Sowerby Bridge, was inspired to become involved in Restart a Heart Day last year after suffering a heart attack in 2016.
"I've had to perform CPR twice, once on my father and once on my father-in-law," said Russell. "It's a vital life skill which we should all learn as it means everyone has the potential to be a lifesaver."
Community First Responder (CFR) Anna Roberts, Co-ordinator of the Royston, (Barnsley) CFR scheme, thinks everyone should learn CPR.
Anna, who lives in Carlton, said: "I have done CPR nine times in the last 13 years and have seen how it can make a massive difference to a patient's outcome.
Everyone should learn and that's why events such as Restart a Heart Day are so important."
Paramedic Jason Hedges, who works and lives in Scarborough, has been involved in Restart a Heart Day since it began in 2014.
He said: "Restart a Heart Day is a fantastic event to be a part of! Giving young people the skills to do CPR means they are more likely to have the confidence to step in and help someone in cardiac arrest."
Helen Smith, of Garforth, Leeds, a Team Leader in the Emergency Operations Centre at Yorkshire Ambulance Service, has the challenging role of allocating the 900 volunteers to the 115 participating schools as well as helping on the day!
Helen said: "I'll be teaching both my children at Garforth Academy this year. It's important that everyone knows what to do in the event of a cardiac arrest and appreciates how doing something, rather than nothing, can make such a big difference."
Over 30,000 people suffer cardiac arrests outside of hospital in the UK every year. If this happens in front of a bystander who starts CPR immediately, the patient's chances of survival double.
CPR-trained volunteers - with an up-to-date Disclosure and Barring Service (DBS) certificate - who would like to get involved in Restart a Heart Day 2018 should register their interest at yas.restartaheart@nhs.net
List of schools participating in Restart a Heart Day 2018
East Yorkshire - 16
Beverley Grammar School
Beverley High School
Bishop Burton College, Beverley
Cottingham High School
Headlands School, Bridlington
Hessle High School
Howden School
Hull Trinity House Academy
Hymers College, Hull
Newland School for Girls, Hull
Pocklington School
Riverside Special School, Goole
St Mary's College, Hull
Wilberforce College, Hull
Wolfreton School and Sixth Form College, Willerby
Wyke Sixth Form College, Hull

North Yorkshire - 32
All Saints RC School, York
Archbishop Holgate's School, York
Bedale High School
Bootham School, York
Cundall Manor School, Helperby
Eskdale School, Whitby
Fulford School, York
Harrogate Grammar School
Harrogate High School
Holy Family Catholic High School, Carlton
Huntington School, York
Queen Ethelburga's Collegiate, York
Richmond School
Risedale Sports and Community College, Catterick Garrison
St Francis Xavier School, Richmond
Scarborough Sixth Form College
Selby College
Selby High School
Settle College
Sherburn High School
Skipton Girls' High School
St Augustine's School, Scarborough
St Peter's School, York
Stokesley School
Tadcaster Grammar School
The Minster School, York
The Read School, Drax
The Rubicon Centre, Selby
The Skipton Academy
The Wensleydale School and Sixth Form, Leyburn
Upper Wharfedale School, Threshfield
York College
South Yorkshire - 24
All Saints Catholic High School, Sheffield
Al-Mahad-Al-Islami, Sheffield
Ash Hill Academy, Doncaster
Aston Academy, Sheffield
Dinnington High School, Sheffield
Ecclesfield School, Sheffield
High Storrs School, Sheffield
Handsworth Grange School, Sheffield
Holy Trinity 3-16 School, Barnsley
Horizon Community College, Barnsley
Maltby Academy, Rotherham
Maple Medical PRU, Doncaster
Notre Dame High School, Sheffield
Outwood Academy City, Sheffield
Outwood Academy Shafton, Barnsley
Saint Pius X Catholic High School, Rotherham
Sheffield Springs Academy
South Axholme Academy, Doncaster
Springwell Learning Community, Barnsley
Stone Hill School, Doncaster
The Hayfield School, Doncaster
The Rowan Centre PRU, Rawmarsh
Thomas Rotherham College, Rotherham
Yewlands Academy, Sheffield
West Yorkshire - 43
Airedale Academy, Castleford
All Saints Catholic College, Huddersfield
BBG Academy, Birkenshaw
Brighouse High School
Calder High School, Mytholmroyd
Calderdale Pupil Referral Unit, Halifax
Carlton Bolling College, Bradford
Castleford Academy
Crofton Academy, Wakefield
Fulneck School, Leeds
Garforth Academy
Health and Caring Services, Leeds City College
Highfield School, Ossett
Holmfirth High School
Honley High School
Institute of Islamic Education, Dewsbury
Kettlethorpe High School, Wakefield
Kirklees College, Huddersfield
Leeds City Academy
Leeds West Academy
Lightcliffe Academy, Halifax
North West SILC, Leeds
Ossett Academy and Sixth Form College
Outwood Academy Freeston, Normanton
Prince Henry's Grammar School, Otley
PRISM Independent School, Bradford
Pudsey Grangefield School
Queen Elizabeth Grammar School, Wakefield
Queensbury Academy, Bradford
Ralph Thoresby School, Leeds
Royds Hall Community School, Huddersfield
Royds School, Leeds
Ryburn Valley High School, Sowerby Bridge
Shelley College, Huddersfield
Silcoates School, Wakefield
St John Fisher Catholic Voluntary Academy, Dewsbury
The Brooksbank School, Elland
The Crossley Heath School, Halifax
The Halifax Academy
The North Halifax Grammar School
Upper Batley High School
Wakefield Independent School
Wetherby High School