Schools Urged to Sign Up for Free Life-saving Lesson on Restart a Heart Day
20 May 2018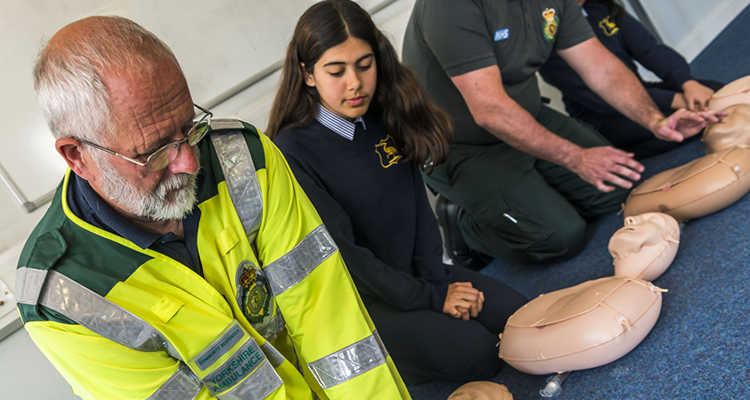 Yorkshire Ambulance Service NHS Trust (YAS) is inviting the county's secondary schools to sign up for a free life-saving lesson on Restart a Heart Day 2018!
Hundreds of ambulance staff and volunteers will give up their time to provide cardiopulmonary resuscitation (CPR) training to more than 25,000 youngsters on Tuesday 16 October. As an added incentive to take part, all participating pupils will be invited to enter an artwork challenge and the winner will receive a defibrillator for their school!
YAS first delivered the mass training event in 2014 to mark the European Resuscitation Council's Restart a Heart Day. Over the last four years, YAS has provided CPR training to over 76,000 youngsters and has been instrumental in rolling out the event to all ambulance services across the UK, Australia and New Zealand.
Jason Carlyon, Clinical Development Manager for Yorkshire Ambulance Service, said: "This year will be our fifth annual Restart a Heart Day when we will hopefully smash the milestone of providing CPR training to over 100,000 youngsters since 2014.
"This will be an incredible achievement and it's all thanks to the hundreds of volunteers and the secondary schools across Yorkshire who understand the value of providing this life-saving lesson.
"CPR is a simple, easy intervention that can save the lives of patients in cardiac arrest. By being trained and having the confidence to use CPR, anyone can dramatically increase a patient's chance of survival."
Currently in the UK, less than one (8.6%) in ten people survive a cardiac arrest. If we achieved the same survival rates of countries like Norway (25%), where CPR is taught in schools, an additional 100 lives could be saved each week - the equivalent of approximately 5,000 every year.
The event is organised in conjunction with the Resuscitation Council (UK), the British Heart Foundation, which provides the necessary equipment free of charge as part of its Nation of Lifesavers campaign, St John Ambulance and other partners.
If your secondary school would like to take part in the event, you can register via the homepage at http://www.restartaheart.yas.nhs.uk/. The deadline for applications is Tuesday 1 May 2018. While we will do our best to accommodate every request, we know this will be a hugely popular event so we would encourage schools to register at the earliest opportunity.