Yorkshire Ambulance Service's Restart a Heart Day Mission to Boost Cardiac Survival Rates
13 October 2017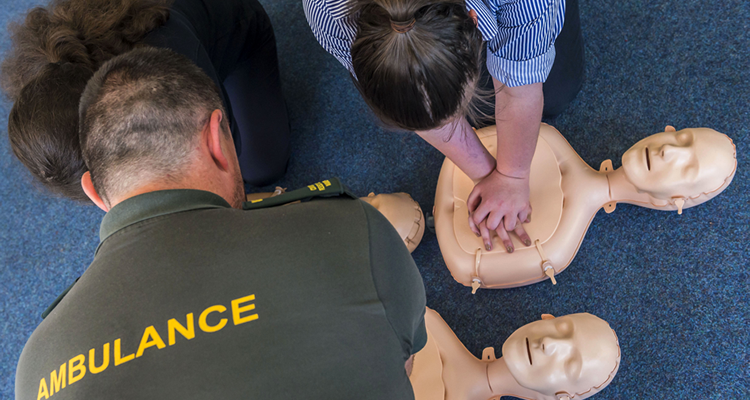 Restart a Heart Day 2017 is supported by 15-year-old who used CPR to save his dad's life and teenage cardiac arrest patient whose life was saved at school.
More than 25,000 youngsters will learn a vital lesson on Restart a Heart Day in a bid by Yorkshire Ambulance Service NHS Trust (YAS) to further improve survival rates from out-of-hospital cardiac arrests.
Around 900 volunteers will visit 125 secondary schools on Monday 16 October 2017 to teach cardiopulmonary resuscitation (CPR) which can double a patient's chance of survival.
Last year, YAS saved more cardiac arrest patients than ever before - 310 compared to 240 in 2015-16. And although survival rates have increased in Yorkshire over the last two years (9.3% in 2015-16 and 10.1% in 2016-17), statistics across the UK are still stubbornly low compared to countries like Norway (around 25%), where children learn CPR in schools.
Jason Carlyon, Clinical Development Manager for YAS, said: "CPR is undoubtedly the most important step in the chain of survival. If this can be carried out in the critical few minutes before the arrival of an ambulance, it can mean the difference between life and death. In 2016-17, 42% of cardiac arrest incidents in Yorkshire were witnessed by a non-clinician who could potentially have started CPR. It is therefore essential to provide CPR training to thousands of youngsters on Restart a Heart Day, but also to use the event as an opportunity to encourage others to learn this vital skill too."
Restart a Heart Day is being supported by a Sheffield family which knows more than most about the benefits of CPR. When 52-year-old Nigel Colton collapsed at home in cardiac arrest, he was resuscitated by his 15-year-old son Herbie who is set to receive a Yorkshire Ambulance Service Certificate of Commendation for his actions.
Herbie Colton said: "I didn't really think about it, adrenaline kicked in and I just did it. I knew I had to carry on until the ambulance crew arrived to give dad the best possible chance of surviving. I'm so glad I knew what to do. Everyone should learn CPR because you never know when you might need to use it. It's better to be safe than sorry."
One school taking part is Leeds West Academy where a Sixth Form student was resuscitated by the school's first aid team after he suffered a cardiac arrest while playing football on 19 October last year.
Christian Wilcocks, Principal of Leeds West Academy, said: "Leeds West Academy is delighted to host and support Restart a Heart Day. Last year, our school community experienced first aid in action when one of our students required CPR, coupled with the use of our defibrillator. The actions of our first aid team on that day, armed with the critical knowledge of CPR, ensured that a young life was saved. The great ending to this story evidences how essential first aid is in our lives, and how imperative defibrillators are within our communities. Working with Yorkshire Ambulance Service, we hope to raise awareness of the vital life-saving skills which promote, preserve and protect the lives of us all."
It is the fourth year that YAS has organised the event in conjunction with the British Heart Foundation, Resuscitation Council (UK) and St John Ambulance (over the last three years YAS has provided CPR training to 51,000 youngsters in Yorkshire). For the second time, our concept for Restart a Heart Day has been adopted by all UK ambulance trust ensuring that more than 150,000 youngsters learn this vital skill nationwide in one day! All ambulance services in Australia and New Zealand are also taking part for the first time – thanks to the life-saving initiative pioneered in Yorkshire.
This year we are proud to have ITV Calendar news presenter Christine Talbot and Lizzie Jones as our Ambassadors for Restart a Heart Day. Lizzie is the widow of Danny Jones, Welsh International and Keighley Cougars Rugby League player, who died aged 29 after suffering a cardiac arrest during a match in May 2015.
The event - sponsored by the Yorkshire Ambulance Service Charitable Fund - is possible thanks to the partnership with the British Heart Foundation, which supplies free Call Push Rescue training kits (including manikins and a tutorial DVD) to participating schools as part of its Nation of Lifesavers campaign.
Simon Gillespie, Chief Executive at the British Heart Foundation, said: "CPR is the difference between life and death for thousands of people every year in the UK who suffer a cardiac arrest. Every second counts, and it simply isn't enough to hope that someone who knows CPR is present. We need everyone to learn this life-saving skill to give them the confidence to step in and give CPR when someone collapses after a cardiac arrest. That's why we are urging secondary schools across the UK to apply for our free training kits and help create a Nation of Lifesavers."
More than 900 volunteers are giving up their time to provide training, the majority of which are YAS staff and community first responders, but also includes representatives from Yorkshire's four fire and rescue services, staff from hospitals in Harrogate, York, Barnsley, Hull, Sheffield, Northallerton, Leeds, Rotherham, Doncaster, Scarborough and Goole, Bradford University student paramedics, nursing students from the University of York and students from Sheffield Medical School as well as STEM Ambassadors.
Jason Carlyon said: "Over 900 volunteers have registered to help us provide CPR training this year, which is beyond our wildest expectations and enables us to provide even more youngsters with the skills to save a life! A big thank you to them all - we couldn't do it without their goodwill and support."
Federico Moscogiuri, Chief Executive Officer of the Resuscitation Council (UK), said: "The young people who receive CPR training today will become the lifesavers of tomorrow. On Restart a Heart Day, over 150,000 young people will receive both face-to-face and online instruction through our free Lifesaver app, which can be played on a mobile device anytime, anywhere and downloaded from
Lifesaver.org.uk. The CPR these young people learn today will be a skill they carry with them throughout their lives."
Dr. Andrew Lockey, Honorary Secretary of the Resuscitation Council (UK), said: "For this year's Restart a Heart Day, we will see unprecedented numbers of young people being taught the vital life-saving skill of CPR. Endeavours ranging from individual effort through to nationally coordinated activity will show that there is a desire to improve the chances of survival for victims of cardiac arrest. Everyone can be a lifesaver and the skills are easy to learn, either online or with face-to-face training. Most cardiac arrests happen in the home, so everyone should ensure that they are those around them are skilled up to save a life."
Media organisations will have interview/photograph opportunities on Monday 16 October 2017 at the following locations (we can also facilitate visits to the other participating schools - contact the Yorkshire Ambulance Service Press Office to make arrangements):
Sheffield (9.15am)
Fifteen-year-old Herbie Colton will be presented with a Yorkshire Ambulance Service Certificate of Commendation for saving his dad's life by performing CPR when he had a cardiac arrest. The ambulance staff who attended the incident and nominated Herbie for the award will also attend the presentation at Yorkshire Ambulance Service, Unit 7 & 8 Ignite, Magna Way, Rotherham, South Yorkshire, S60 1FD. Head for the reception at the front.
Leeds West Academy (10am)
The pupil who was resuscitated by the school's first aid team will be available for interview along with one of his life-savers Sarah Stead
ITV Calendar news presenter Christine Talbot will join pupils for the training
Lizzie Jones, widow of Welsh International and Keighley Cougars Rugby League player Danny Jones, will be helping with CPR training and talking to youngsters about her experience of why CPR training is vital

 

(2pm TBC)
Aston Academy, Sheffield (11.30am)
St Mary's College Hull (9.30am)
Former Hull FC player Feka Paleaaesina, who is their current Player Welfare Manager, and Joe Wardill, from Hull KR, will join pupils for the training
Mallet Lambert, Hull (10am)
York College (10.45am)
Further patient case studies are available at http://www.restartaheart.yas.nhs.uk/day/case-studies/
Participating Schools
North Yorkshire (32)
Archbishop Holgate's School, York
Barlby High School, Selby
Bootham School, York
Boroughbridge High School, Boroughbridge
Eskdale School, Whitby
Fulford School, York
Harrogate High School, Harrogate
King James's School, Knaresborough
Malton School, Malton
Northallerton School and Sixth Form College, Northallerton 
Queen Ethelburga's Collegiate, York
Queen Margaret's School, York
Queen Mary's School, Thirsk
Richmond School, Richmond 
Ripon Grammar School, Ripon
Risedale Sports and Community College, Catterick Garrison
Saint Francis Xavier, Richmond
Scarborough Pupil Referral Unit, Scarborough
Scarborough Sixth Form College, Scarborough
Selby College, Selby
Selby High School, Selby
Settle College, Settle
Sherburn High School, Sherburn-in-Elmet 
Skipton Girls' High School, Skipton
St Augustine's School, Scarborough
St Peter's School, York
Tadcaster Grammar School, Tadcaster
The Skipton Academy, Skipton
Upper Wharfedale School, Skipton 
Wensleydale School, Leyburn
York College, York
York High School, York
East Yorkshire (17)
Hull College, Hull
Beverley Grammar School, Beverley
Bishop Burton College, Bishop Burton
Cottingham High School, Cottingham
Headlands School, Bridlington
Horton House School, Hull
Howden School, Howden
Hull Trinity House Academy, Hull
Hymers College, Hull
Malet Lambert School, Hull
Medical, Health and Social Care Academy at St Mary's College, Hull
Newland School for Girls, Cottingham
The Holy Family Catholic High School, Goole 
The Marvell College, Hull
Wilberforce College, Hull
Withernsea High School, Withernsea
Wyke Sixth Form College, Hull
West Yorkshire (51)
Airedale Academy, Castleford 
All Saints Catholic College, Huddersfield
Allerton Grange School, Leeds
Batley Girls' High School, Batley
BBG Academy, Birkenshaw
Bradford Girls' Grammar School, Bradford
Brighouse High School, Brighouse
Bruntcliffe Academy, Morley
Calder High School, Hebden Bridge
Calderdale Pupil Referral Unit, Halifax
Carlton Bolling College, Bradford
Castleford Academy, Castleford
Crawshaw Academy, Pudsey
Darul Uloom Dawatul Imaan, Bradford
De Lacy Academy, Knottingley
Dixons City Academy, Bradford
Dixons McMillan Academy, Bradford
Ethos College, Huddersfield
Garforth Academy, Leeds
Highfield School, Ossett
Holmfirth High School, Holmfirth
Honley High School, Honley
Institute of Islamic Education, Dewsbury
Kettlethorpe High School, Wakefield
Lawnswood High School, Leeds
Leeds City Academy, Leeds
Leeds City College, Leeds
Leeds West Academy, Leeds
Madni Muslim Girls' School, Dewsbury
Minsthorpe Community College, South Elmsall
North West Specialist Inclusive Learning Centre, Guiseley
Ossett Academy and Sixth Form College, Ossett
Prince Henry's Grammar School, Otley
PRISM Independent School, Bradford
Pudsey Grangefield School, Leeds
Queen Elizabeth Grammar School, Wakefield
Queensbury School, Bradford
Royds Hall Community School, Huddersfield
Ryburn Valley High School, Sowerby Bridge 
Silcoates School, Wakefield
Springwell Burley Park site, Leeds
St John Fisher Catholic Voluntary Academy, Dewsbury
The Brooksbank School, Halifax
The Halifax Academy, Halifax
The King's School, Pontefract
The South Leeds Academy, Leeds
Upper Batley High School, Batley
Wakefield City Academy, Wakefield
Wakefield Girls' High School, Wakefield
Wakefield Independent School, Wakefield
Wetherby High School, Wetherby
South Yorkshire (27)
All Saints Catholic High School, Sheffield
Al-Mahad Al-Islami, Sheffield
Ash Hill Academy, Doncaster
Aston Academy, Sheffield
Barnsley Academy, Barnsley
Bents Green Specialist Secondary School, Sheffield
De Warenne Academy, Doncaster
Doncaster Deaf Trust, Doncaster
Ecclesfield School, Sheffield
Handsworth Grange Community Sports College, Sheffield
High Storrs School, Sheffield
King Edward VII School, Sheffield
Maple Medical Pupil Referral Unit, Doncaster
Notre Dame High School, Sheffield
Outwood Academy City, Sheffield
Parkwood Academy, Sheffield
Penistone Grammar School, Sheffield
Saint Pius X Catholic High School, Rotherham
Serlby Park Academy, Doncaster
Sir Thomas Wharton Community College, Doncaster
South Axholme Academy, Doncaster
Springwell Learning Community, Barnsley
Stone Hill School, Doncaster
The Dearne Advanced Leaning Centre, Rotherham
The McAuley Catholic High School, Doncaster
Winterhill School, Rotherham
Yewlands Academy, Sheffield