Secondary Schools Invited to Sign Up for Free Life-saving Lesson on Restart a Heart Day 2017 and the Chance to Win a Defibrillator!
14 February 2017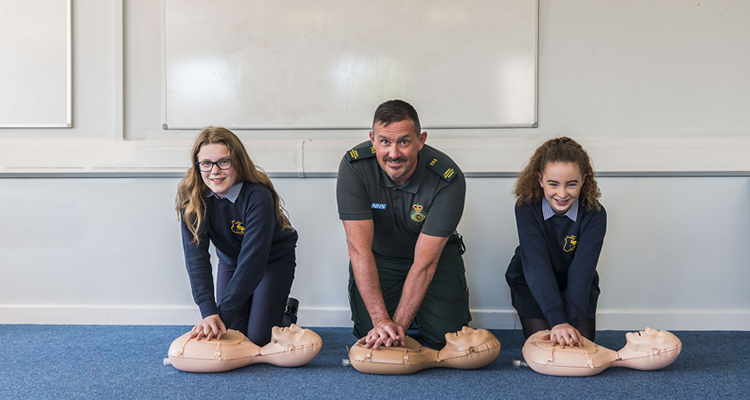 Yorkshire Ambulance Service NHS Trust (YAS) has issued a heartfelt appeal to secondary schools across the county to sign up for free cardiopulmonary resuscitation (CPR) training.
Hundreds of ambulance staff and volunteers will give up their time on Restart a Heart Day (Monday 16 October 2017) to teach youngsters what to do if they come across someone who has suffered a cardiac arrest.
Over the last three years on Restart a Heart Day, Yorkshire Ambulance Service has provided CPR training to more than 50,000 youngsters at secondary schools across Yorkshire and it is hoped that another 25,000 pupils will learn the vital skill this year.
Our Restart a Heart Day Ambassador Lizzie Jones, widow of Danny Jones, Welsh International and Keighley Cougars Rugby League player who died aged 29 after suffering a cardiac arrest during a match in May 2015, is encouraging schools to sign up.
Halifax-based Lizzie said: "Restart a Heart Day is an incredible event and I am so proud to be a part of something which has the potential to make a difference to so many lives. By teaching our children such a vital skill, we are changing the future and I would encourage as many schools as possible to take part in the event on 16 October 2017."
As an added incentive to register, all participating pupils will be invited to take part in a poster competition and the winner will receive a defibrillator for their school!
Currently in the UK, less than one (8.6%) in ten people survive a cardiac arrest. If we achieved the same survival rates of countries like Norway (25%), where CPR is taught in schools, an additional 100 lives could be saved each week - the equivalent of approximately 5,000 every year.
Restart a Heart Day organiser Jason Carlyon, Clinical Development Manager for Yorkshire Ambulance Service, said: "Restart a Heart Day is becoming more successful every year and 2016 was the best yet when we shared our concept with all UK ambulance trusts to support the roll-out of the event nationally. Last year over 150,000 youngsters received CPR training across the UK which is an incredible achievement.
"CPR is a simple, easy intervention that can save lives. By being trained and having the confidence to use CPR, anyone can dramatically increase the chance of a victim's survival. It could be your wife, your husband, your mum or your dad… what better reason to learn than equipping yourself with the skills to save the life of a loved one."
The event has been organised in conjunction with the Resuscitation Council (UK), the British Heart Foundation, which provides the necessary equipment free of charge as part of its Nation of Lifesavers campaign, and St John Ambulance. All UK ambulance trusts will again be holding events to mark Restart a Heart Day.
If your school would like to take part in the event, you can register at http://www.restartaheart.yas.nhs.uk/. The deadline for applications is Friday 7 April 2017.