Record-breaking Number of Schools Sign up for Restart a Heart Day
12 May 2017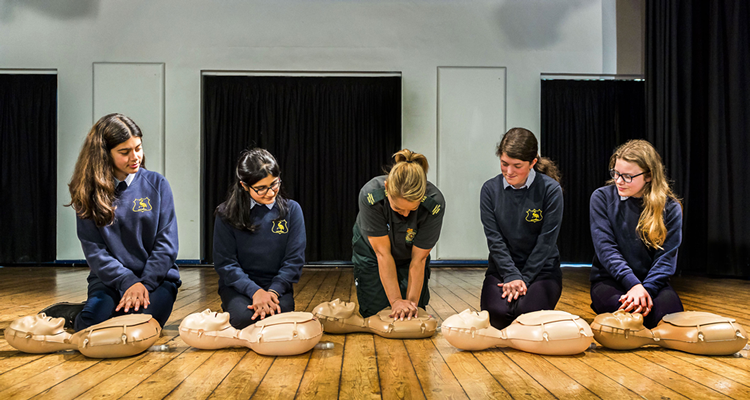 An incredible 138 secondary schools across Yorkshire have signed up to receive life-saving cardiopulmonary resuscitation (CPR) training on European Restart a Heart Day.
Yorkshire Ambulance Service NHS Trust (YAS) staff and volunteers will visit schools on Monday 16 October 2017 to teach CPR to more than 25,000 children in what will be the biggest event of its kind ever seen in the world.
YAS first delivered the mass training event in 2014 to mark the European Resuscitation Council's Restart a Heart Day. Over the last three years YAS has provided CPR training to over 51,000 youngsters with support from the Resuscitation Council (UK), British Heart Foundation, St John Ambulance, the Yorkshire Ambulance Service Charitable Fund and other partner agencies.
For the first time last year, YAS shared its concept for Restart a Heart Day with all UK ambulance trusts which resulted in over 116,734 youngsters learning the skill nationwide. This will be repeated again this year with a national ambulance service target of 150,000.
YAS is delighted to welcome ITV Calendar News presenter Christine Talbot on board as a Restart a Heart Day Ambassador. Christine applauded the 138 secondary schools which have signed up to provide their pupils with skills which may one day save a life.
Christine said: "I am delighted to be an Ambassador for this campaign. Over the years I have covered many stories where lives could have been saved if action had been taken immediately.
"I think this a life skill we should all have and I'm thrilled that so many youngsters will be coming on board." 

Jason Carlyon, Resuscitation Manager for YAS, said: "Every second counts when someone has a cardiac arrest and if a bystander immediately performs CPR, this can double the patient's chances of survival. By teaching more people how to carry out CPR, we hope to increase the bystander CPR rates which will in turn, improve the survival rates for people who suffer a cardiac arrest.
"The majority of cardiac arrests happen in the home so by learning CPR, these youngsters could one day save the life of someone they love."
Of the 138 schools which have signed up 20 are in East Yorkshire, 55 are in West Yorkshire, 31 are in South Yorkshire and 32 are in North Yorkshire.
Over 30,000 people suffer cardiac arrests outside of hospital in the UK every year. If this happens in front of a bystander who starts CPR immediately before the arrival of the ambulance, the patient's chances of survival double.
The BHF supplies free Call Push Rescue training kits (including manikins and a tutorial DVD) to participating secondary schools and community groups across the UK to help people learn life-saving CPR as part of its Nation of Lifesavers campaign.
Sara Askew, Head of Survival at the British Heart Foundation, said: "Sadly, thousands of lives are being lost every year because people lack the confidence and skills to step in and start CPR which could save a life when someone collapses with a cardiac arrest.
"We need as many people as possible to learn this life-saving skill to give them the confidence to step in and try to save a life when they see someone suffer a cardiac arrest.
"We're absolutely delighted that so many schools across Yorkshire are continuing to help create a Nation of Lifesavers by learning CPR on Restart a Heart Day."
Dr Andy Lockey, Honorary Secretary of the Resuscitation Council, said: "Yorkshire Ambulance Service continues to lead the way with its work to increase the number of young people trained in CPR. As a proud Yorkshireman, it is wonderful to see such exemplar activity occurring in my own county, but from a Resuscitation Council perspective it is also fantastic that this good work is helping to inspire the national project."
Participating Schools
North Yorkshire (32)
Archbishop Holgate's School, York
Barlby High School, Selby
Bootham School, York
Boroughbridge High School, Boroughbridge
Eskdale School, Whitby
Fulford School, York
Harrogate High School, Harrogate
King James's School, Knaresborough
Malton School, Malton
Northallerton School and Sixth Form College, Northallerton 
Queen Ethelburga's Collegiate, York
Queen Margaret's School, York
Queen Mary's School, Thirsk
Richmond School, Richmond 
Ripon Grammar School, Ripon
Risedale Sports and Community College, Catterick Garrison
Saint Francis Xavier, Richmond
Scarborough Pupil Referral Unit, Scarborough
Scarborough Sixth Form College, Scarborough
Selby College, Selby
Selby High School, Selby
Settle College, Settle
Sherburn High School, Sherburn-in-Elmet 
Skipton Girls' High School, Skipton
St Augustine's School, Scarborough
St Peter's School, York
Tadcaster Grammar School, Tadcaster
The Skipton Academy, Skipton
Upper Wharfedale School, Skipton 
Wensleydale School, Leyburn
York College, York
York High School, York
East Yorkshire (20)
Hull College, Hull
Beverley Grammar School, Beverley
Bishop Burton College, Bishop Burton
Cottingham High School, Cottingham
Headlands School, Bridlington
Horton House School, Hull
Howden School, Howden
Hull Trinity House Academy, Hull
Hymers College, Hull
Malet Lambert School, Hull
Medical, Health and Social Care Academy at St Mary's College, Hull
New Life Christian Academy, Hull
Newland School for Girls, Cottingham
South Holderness Technology College, Hull 
The Boulevard Centre, Hull
The Holy Family Catholic High School, Goole 
The Marvell College, Hull
Wilberforce College, Hull
Withernsea High School, Withernsea
Wyke Sixth Form College, Hull
West Yorkshire (55)
Airedale Academy, Castleford 
All Saints Catholic College, Huddersfield
Allerton Grange School, Leeds
Batley Girls' High School, Batley
BBG Academy, Birkenshaw
Bradford Girls' Grammar School, Bradford
Brighouse High School, Brighouse
Bruntcliffe Academy, Morley
Calder High School, Hebden Bridge
Calderdale Pupil Referral Unit, Halifax
Carlton Bolling College, Bradford
Castleford Academy, Castleford
Crawshaw Academy, Pudsey
Crofton Academy, Wakefield
Darul Uloom Dawatul Imaan, Bradford
De Lacy Academy, Knottingley
Dixons City Academy, Bradford
Dixons McMillan Academy, Bradford
Ethos College, Huddersfield
Garforth Academy, Leeds
Highfield School, Ossett
Holmfirth High School, Holmfirth
Honley High School, Honley
Institute of Islamic Education, Dewsbury
Kettlethorpe High School, Wakefield
Kirklees College, Huddersfield
Lawnswood High School, Leeds
Leeds City Academy, Leeds
Leeds City College, Leeds
Leeds West Academy, Leeds
Madni Muslim Girls' School, Dewsbury
Minsthorpe Community College, South Elmsall
North West Specialist Inclusive Learning Centre, Guiseley
Ossett Academy and Sixth Form College, Ossett
Prince Henry's Grammar School, Otley
PRISM Independent School, Bradford
Pudsey Grangefield School, Leeds
Queen Elizabeth Grammar School, Wakefield
Queensbury School, Bradford
Royds Hall Community School, Huddersfield
Ryburn Valley High School, Sowerby Bridge 
Silcoates School, Wakefield
Spen Valley High School, Liversedge
Springwell Burley Park site, Leeds
St John Fisher Catholic Voluntary Academy, Dewsbury
St Wilfrid's Catholic High School and VI Form College, Featherstone
The Brooksbank School, Halifax
The Halifax Academy, Halifax
The King's School, Pontefract
The South Leeds Academy, Leeds
Upper Batley High School, Batley
Wakefield City Academy, Wakefield
Wakefield Girls' High School, Wakefield
Wakefield Independent School, Wakefield
Wetherby High School, Wetherby
South Yorkshire (31)
All Saints Catholic High School, Sheffield
Al-Mahad Al-Islami, Sheffield
Ash Hill Academy, Doncaster
Aston Academy, Sheffield
Barnsley Academy, Barnsley
Bents Green Specialist Secondary School, Sheffield
De Warenne Academy, Doncaster
Don Valley Academy, Doncaster
Doncaster Deaf Trust, Doncaster
Ecclesfield School, Sheffield
Firth Park Academy, Sheffield
Handsworth Grange Community Sports College, Sheffield
High Storrs School, Sheffield
King Edward VII School, Sheffield
Maple Medical Pupil Referral Unit, Doncaster
Notre Dame High School, Sheffield
Outwood Academy City, Sheffield
Parkwood Academy, Sheffield
Penistone Grammar School, Sheffield
Saint Pius X Catholic High School, Rotherham
Serlby Park Academy, Doncaster
Sir Thomas Wharton Community College, Doncaster
South Axholme Academy, Doncaster
Springwell Learning Community, Barnsley
Stone Hill School, Doncaster
The Dearne Advanced Leaning Centre, Rotherham
The McAuley Catholic High School, Doncaster
Thomas Rotherham College, Rotherham
Wingfield Academy, Rotherham
Winterhill School, Rotherham
Yewlands Academy, Sheffield