Life-saving Prizes for Two Restart a Heart Day Schools
22 December 2016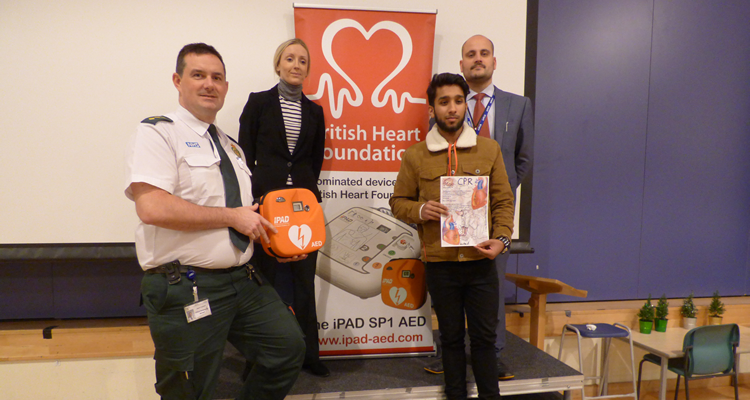 Skipton Girls' High School and Halifax Academy have won life-saving defibrillators in a Yorkshire Ambulance Service NHS Trust (YAS) competition.
They were among 105 schools to take part in Restart a Heart Day in October 2016 when 20,000 youngsters across Yorkshire were taught cardiopulmonary resuscitation (CPR).
As part of the event, YAS organised a poster competition for participating schools. Entries by four Skipton Girls' High School Year 10 pupils, Maddie Evans, Millie Bradley, Grace Daly and Maya Kurrella, and 16-year-old Imran Arif from Halifax Academy impressed the judges. The winning designs will be used to promote next year's Restart a Heart Day on Monday 16 October 2017.
The schools have won defibrillators donated by Zoll and WEL Medical; it is hoped they will both be located on external walls of the schools so they can also be used by the local community if someone suffers a cardiac arrest.
Jenn Plews, Headteacher at Skipton Girls' High School, said: "We are absolutely delighted to have won a defibrillator for school and our local community. Over the last two years the Restart the Heart Day Campaign at Skipton Girls' High School has raised awareness of how important it is to have the knowledge and confidence to be able to deliver CPR if needed.  The students are now fundraising in order to purchase an outdoor housing unit so that the defibrillator can be accessed by the local community."
Mick Kay, Headteacher of the Halifax Academy – Secondary Phase, said: "We were extremely proud to welcome our former student Imran back into the academy for the presentation of his award. Imran produced an excellent piece of artwork which will be displayed in school for pupils and staff to view. We are very fortunate to have received the defibrillator, a very important piece of equipment which will also benefit the local community.
"We are committed to helping our students become responsible and caring citizens, so Restart a Heart Day was a valuable opportunity to equip a large number of students with both the confidence and the knowledge to do CPR and be able to save a life, which is an incredibly important skill."
Over 30,000 people suffer cardiac arrests outside of hospital in the UK every year. Early CPR and defibrillation play a key role in significantly increasing the patient's chances of survival.
Jason Carlyon, a Clinical Development Manager at YAS and organiser of Restart a Heart Day, said: "We were delighted to provide Skipton Girls' High School and Halifax Academy with life-saving defibrillators and are thrilled that they want to locate them on external wall of the schools so can also be used by members of the public in an emergency."
Gareth Davies, Senior Territory Manager with Zoll, said: "Zoll is proud to partner with Yorkshire Ambulance Service on Restart a Heart Day by providing volunteer support from our Sales Team and also sponsoring the defibrillator prize for the poster competition. Any campaign that provides more defibrillators for the people of Yorkshire will ultimately save more lives in this area."
Ian Pearse, Director, WEL Medical, said: "We are delighted to be able to support Yorkshire Ambulance Service in its important initiatives that increase the awareness of the importance of CPR and defibrillation.  Not only will this result in the placement of a defibrillator to protect all those in the school environment, making it publically accessible will benefit everyone in the local area. Moreover, the students also are now equipped with skills that could potentially save a life."